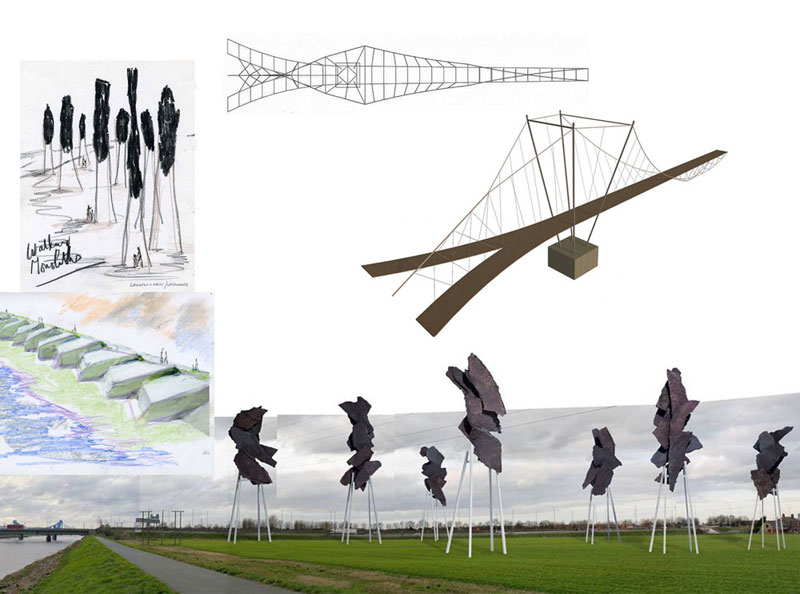 Y GWYLWYR (The Sentinels), 2007: Proposal
Landmark Wales Finalists :Flintshire Border Site
Patricia Leighton & Del Geist, Artists
Weidlinger Associates, Inc: Engineers
Graham Phoenix Lighting Design
The Gateway sculptures are powerful symbolic markers for North Wales and define the crossing and sense of passage from England into Wales.
The Towers stand as Sentinels marking the entry and exit to Wales; the Earthwork along the river's edge alludes to a line of transition and demarcation; and the new Bridge, across the River Dee, becomes the symbolic crossing point. The three components each evoke the rich and diverse nature of Wales, alluding to past mythology, history, archeology and geology of the Nation. 
SEVEN MONUMENTAL TOWERS, sited adjacent to the A494 and the River Dee, range in scale from 60 to 110 ft. high.  They utilize age-old materials, Welsh Cambrian slate, combined with the contemporary material steel, employing advanced engineering techniques.
THE EARTHWORKS are developed in collaboration with the Environmental agencies, and landowners, and the contemporary earthwork design becomes part of the hydrology system.  Thus, whilst building the necessary flood defenses an earthwork feature is also created.
THE PEDESTRIAN SUSPENSION BRIDGE is designed with a single pylon in the water and splits into two pathways, symbolic of the two Nations.  The delicate interlacing of cables provides tensile strength while alluding to ancient Celtic woven patterns. 
The overall sculpture design taps into the Celtic, the mystical, and the legendary history of Wales to evoke the essence of the Nation.